Psychological assistance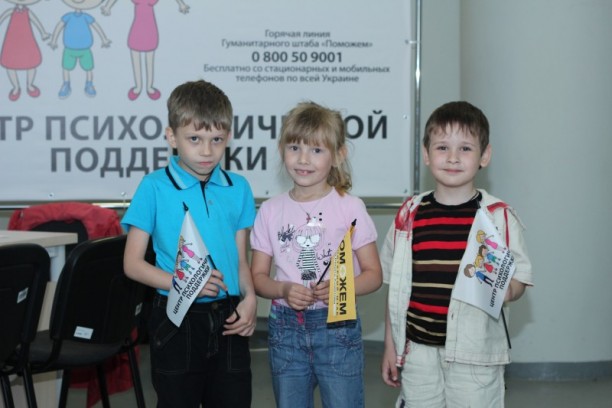 The Humanitarian Center gave an open access to the materials of "Children and War" program. The posted manuals and lectures will be mainly interesting for psychologists working with Donbas children.
The war in the East of Ukraine is a great challenge for the whole society. It became a psychotraumatic factor for millions of people, especially children who witnessed the hostilities. Psychologists have to find the ways to help these children cope with the war trauma. And it is important that the selected techniques were implemented in short terms, could be used in group work and were evidence-based and effective. The proposed "Children and War" program fully meets these requirements.
"The program is based on the proved cognitive-behavioural approach of post-traumatic disorder therapy among children. It has been implemented in many countries affected by war, and the conducted clinical studies have shown its effectiveness. This technique involves working both with children and their parents, who are intended to become the source of support for their kids", ‒ Darya Kasyanova, Project and program manager at Rinat Akhmetov Humanitarian Center, shares.
In the posted videos Natalia Podoliak, family and child therapist and a trainer of the "War Trauma" course tells about the goals and structure of "Children and War" program. According to her, "the purpose of the program is to show children that the things they are going through after the tragic events is a normal reaction to abnormal events".
The program consists of five classes with children, 1.5-2 hours each. Two sessions with parents also last 1.5-2 hours and may be conducted in parallel with the child.
"Children and War" program was developed by British and Norwegian experts, translated and adapted by Lviv Institute of Cognitive Behavior Therapy. This is the second module of the "War Trauma" course, which was organized and conducted by Rinat Akhmetov Humanitarian Center for 250 best psychologists of Ukraine. This year psychologists will be offered additional trainings to improve their skills and qualification.
Download "Children and War: learning the healing technique" manual.
STATISTICS AS OF 23.05.2018
THE HUMANITARIAN CENTER IS OPERATING FOR
issued
12 059 514
food packages
where
11 184 831
are adult packages and
874 683
are packages for children
from 0 to 35 months old
Read all news
Rinat Akhmetov
Humanitarian Center
© 2018
Использование/копирование фото и видео контента, размещенного на сайте
fdu.org.ua
, возможно с разрешения редакции сайта:
press@fdu.org.ua
CONTACTS
0800 509 001
Mon-Fri, from 9.00 to 18.00