Пресс-центр
Новости
First echelon of Rinat Akhmetov's humanitarian aid drive to arrive in Mariupol tonight. PHOTO
22.08.2014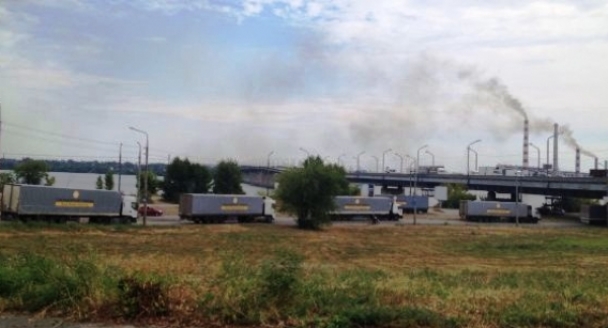 On 22 August, the first echelon of Rinat Akhmetov's humanitarian aid drive has departed from Dnepropetrovsk to Mariupol carrying assistance to Donetsk and Lugansk oblasts. Yesterday, the representatives of the Main Department of Ukraine's Emergency Ministry in Dnepropetrovsk oblast and the UNHCR office examined the humanitarian freight including over 2,000 tonnes of groceries, baby food and hygiene products.
Yelena Klochkova, a representative of the UNHCR office: "We are working here as observers. Before the humanitarian freight goes to Mariupol, we check whether it corresponds to the items declared in the documents and to the quality certificates. We also verify the permits. The inspection has been successful and the quality and other aspects are in order."
Igor Voloshyn, Deputy Head of the Main Department of Resources in Dnepropetrovsk oblast, also approved the freight.
Rimma Fil, Coordinator of the Humanitarian Centre of Rinat Akhmetov's Foundation: "The humanitarian freight has been examined and corresponds to all standards, so now the truck convoy is departing from Dnepropetrovsk to Mariupol, where tomorrow morning the volunteers will start to unload the aid and put it into special food, hygiene and kids' packages. Later the trucks will head to the cities and towns in the war zone, the liberated cities and places of compact settlement of the displaced people – these areas urgently need the aid. Different estimations show that around one to three million people require humanitarian help, and the necessary amounts account for about 10,000 tonnes a week or 40,000 a month. The humanitarian aid from Ukraine, Russia and the regular supplies to Donbass from charity and volunteer organisations amount to under 5,000 tonnes. Thus, Rinat Akhmetov instructed the Humanitarian Centre to deliver not less than 10,000 tonnes of the aid."
The first echelon delivering 200,000 food packages is expected the cover the needs for two weeks. The packages include sugar, cereals, flour, tea, juices, canned food and pasta. The internally displaced people (IDP) living in the liberated cities, such as Mariupol, Svyatogorsk, Kurakhovo, Dobropolye and Schastye, as well as other places of compact settlement, will receive 10,000 packages of hygiene products. One package will last for a month for a family of three. The families in the liberated cities and the IDP with children will get 5,000 kids' packages containing baby food and diapers.
The Humanitarian Centre "Aid + Help" of Rinat Akhmetov's Foundation has four key missions: evacuating people from the war zone; accommodating the IDP; supplying the humanitarian aid; rendering targeted help.
As of today, the Humanitarian Centre and Rinat Akhmetov's Foundation have evacuated from the war zone 19,260 people, including 8,620 children. The places of compact settlement, including the recreation facilities of SCM Group, accommodate 5,900 people.
You can contact the Humanitarian Centre at a toll-free multichannel hotline 0 800 50 9001 and at helpdonbass@fdu.org.ua.
Поделиться новостью:
STATISTICS AS OF 16.01.2018
THE HUMANITARIAN CENTER IS OPERATING FOR
issued
11 978 894
food packages
where
11 107 647
are adult packages and
871 247
are packages for children
from 0 to 35 months old
Read all news
Rinat Akhmetov
Humanitarian Center
© 2018
CONTACTS
0800 509 001
Mon-Fri, from 9.00 to 18.00