Пресс-центр
Новости
As of August 19, 17,878 People were Evacuated, Among them 7,995 Children
19.08.2014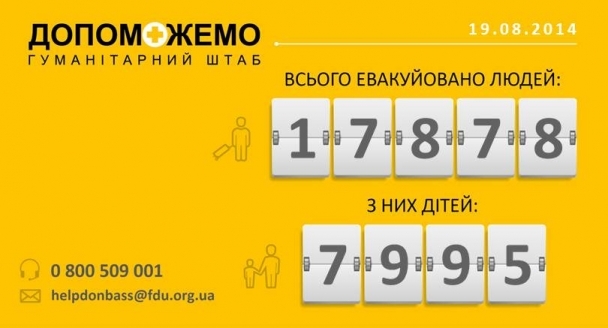 According to the Humanitarian Centre of the Rinat Akhmetov Foundation, 17,878 people were evacuated in the Donbass, among them 7,995 children as of the morning of August 19, 2014.
According to Daria Kasyanova, the Head of "Evacuation" Direction of the Humanitarian Centre, on Monday, August 19, the people were taken from Yenakiyevo, Donetsk, Stakhanov and Bryanka. 245 family members of employees of Yenakiyevo Iron and Steel Works were taken away.
The hotline of the Humanitarian Centre 0 800 509 001 receives hundreds of calls daily.
Поделиться новостью:
STATISTICS AS OF 13.12.2017
THE HUMANITARIAN CENTER IS OPERATING FOR
issued
11 953 497
food packages
where
11 083 335
are adult packages and
870 162
are packages for children
from 0 to 35 months old
Read all news
Rinat Akhmetov
Humanitarian Center
© 2017
CONTACTS
0800 509 001
Mon-Fri, from 9.00 to 18.00