Пресс-центр
Новости
The Restoration of Power Supply in the Region of Donetsk updates. DTEK Summary for August 18
18.08.2014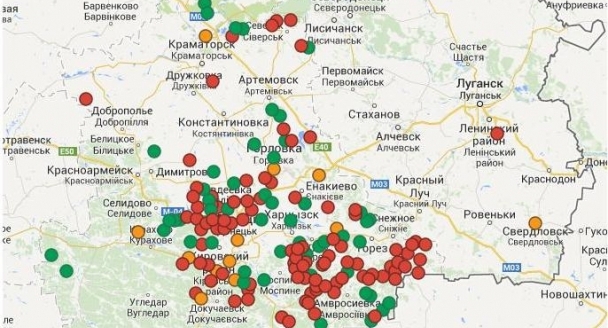 132 DTEK Power Engineers were involved in restoration of power supply in the Region of Donetsk within 28 brigades and 28 cars, using 45 units of special machinery.
Major events of the day:
• DTEK Brigades of Donetskoblenergo are carrying out works on repair and replacement of wires, installation of supports, replacement of electrical equipment at Konstantinovskoe, Slavyansk, Artemovsk, Yasinovatoe segments of high voltage power lines. These works will ensure backup power supply for consumers in these areas.
• In Kuibyshev district of Donetsk the power supply is restored in the houses of the Settlement of Zastantsyonnyy.
• 2 transformer substations have been energized from the substation of baked goods factory in Donetsk, providing electricity to Donetskgorteploset UE.
Electricity in the mine settlement of Octyabrskaya (SE "DUEK") have been partially restored in Kuibyshev region of Donetsk.
The hostilities have de-energized the following:
• In Donetsk region over 500 thousand of residents in 94 towns found themselves without electricity - it is the largest scale of de-energizing since the beginning of hostilities in Donetsk region.
The following settlements have been de-energized either partially of fully:
Nizhnyaya Krynka, Verkhnyaya Krynka, Maloe Orekhovo, Bolshoe Orekhovo, Peski, Vodyanoe, Nevelskoe, Pervomayskoe, Netaylovo, Umanskoe, Novopetrovka, Semenovka, Grigorevka, Krinichki, Stepano-Krynka, Russko-Orlovka, Pokrovka, Grabskoe, Mnogopole, Agronomicheskoe, Leperskoe, Poltava, Kuteynikovo, Metallist, Klyonovka, Elizavetonikolaevka, Bondarevo, Grigorevka, Volodarskoe, Novaya Derevnya, Zerkalnyy, Pobeda, Merezhki, Svobodnyy, Zelenoe, Sadovoe, Novonikolaevka, Verbovka, Fedorovka, Stepnoye, Vyselki, Ovoshchnoe, Bolshoe Meshkovo, Svistuny, Kobzari, Karlovka, Staromihaylovka, Pervomayskiy, Gorbachevo, Berezovskiy, Grishki, Pokrovka, Vonogradnoe, Voykovo, Novopelageevka, Tretyaki, Zorka, Kozhevni, Dubrovka, Peredereevo, Peresypnoe, Zrubnoe, Chugunokrepinka, Marinovka, Stepanovka, Saurovka, Tarany, Latyshevo, Dmitrovka, Vodianoe, Shaposhnikovo, Zarosschenskoe, Revino, Veseloe, Spartak, Novogrigorevka, Lebyazhyy, Vasilevka, Krasnyy Partizan, Verkhnetoretskoe, Roza, Novyy Donbass, Pustosh, Staraya Laspa.
From 18:40 Verkhne-Kalmiusskaya filtration station has been de-energized that had provided water to the city of Donetsk. As a result of hostilities on August 17, the last Chaykino- Yasinovataya - 110 line feeding the station with electricity power was damaged in the segment between Makeyevka and Yasinovataya where there are active hostilities take place, brigades od DTEK Donetskoblenergo are not able to make the repairs. They will start the work as soon as there is a lull in the fighting.
• The hostilities de-energized the following DTEK Donetskoblenergo substations: Yasinovka-35 kV feeding Kommunarskaya mine in Zhdanovka ("Shahtoupravlenie Donbass" PJSC) and substation 21 BIS-110 kV feeding Severnaya mine (Kirov settlement). At the time of breakout there were no people in the mines. The drainage in Severnaya mine continues to work.
• DTEK " Komsomolets Donbassa" Mine" in Kirov is fully de-energized.
• Power engineers of DTEK High Voltage Energy networks carried out repairs of two disconnected 110 kV high-voltage lines, which supplied Yenakievo steelworks and Yenakievo coking plant. As of 18:00 these enterprises are de-energized.
• About 80% of the city - 260 thousand people – found themselves without the power supply. Micro-districts of Rumyantsev, Quarter 51, Mirnyy, and settlements of Aksenovka and Novogorlovka were de-energized. The Kirov Machine-Building Plant and the tram and trolleybus city administration were also de-energized. Gorlovka dairy factory, meat processing plant remain de-energized. Because of the damage caused to high-voltage lines by fragments of projectile, factories of "Stirol", "Elastomer" LLC, knitting factory, and Gorlovka Lenin and Kalinin mines are de-energized. It is impossible to carry out the repair works due to the hostilities.
• No electricity is now in Gorlovka filtering station No.2 , "Water of Donbass" UE. Therefore, residents of the Central urban area, micro-districts of Stroitel, Komsomolets, Kurganka, Mashzavod settlement, there is no water in part of Solnechnyy and Bessarabki Micro-districts.
• In Donetsk, Grabari settlement in Kuybyshev District, three multi-storey houses and 3,850 residents of Oktyabrskaya mine and Oktyabrskiy ore working remain de-energized.
• GLP-2 Substation at the "Tochmash" plant was mined in Donetsk.
Because of the shelling of the Soviet district in Makeevka staff of the Soviet District section of DTEK Donetskoblenergo Makeevskaya electrical networks was evacuated. Only a duty shift works on the site.
On 18 August, brigades of Gorlovka, Gorlovka Vostochnaya, Avdiivka, Torez, Shakhtarsk, Debaltsevo, Snizhne, and Khartsyzsk RES of DTEK Donetskoblenergo and DTEK High-Voltage Networks Khartsyzsk, Donetsk, Gorlovka networks were not able to carry out the repair works due to the hostilities.
In a number of cities of the Region of Donetsk payment for utilities is carried out only in the cashless form via internet banking. As of 18 August, cash payment through Oschadbank is temporarily unavailable in the cities of Donetsk, Maryenka, Yasinovataya, Shakhtersk, Thorez, Gorlovka, Yenakievo.
Поделиться новостью:
STATISTICS AS OF 25.11.2017
THE HUMANITARIAN CENTER IS OPERATING FOR
issued
11 928 913
food packages
where
11 060 066
are adult packages and
868 847
are packages for children
from 0 to 35 months old
Read all news
Rinat Akhmetov
Humanitarian Center
© 2017
CONTACTS
0800 509 001,
Mon-Fri, from 9.00 to 18.00