Пресс-центр
Новости
The Outcomes of the Humanitarian Centre's Activities for the Week of August 11-17
18.08.2014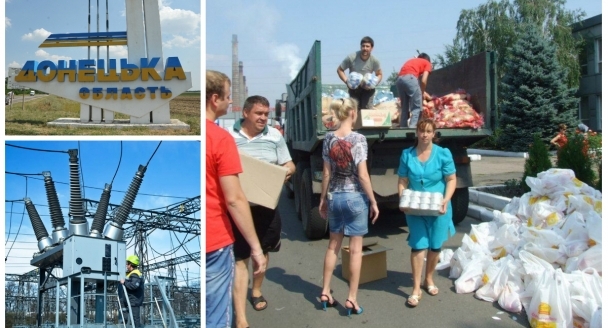 Within the period of August 11 to 17 the Humanitarian Centre conducted its activities in the four major areas: evacuation, relocation, delivery of humanitarian aid to the ATO zone and to the places of immigrant residence, and targeted assistance to children, treatment.
3,301 persons (incl. 1,129 children) have been evacuated from the ATO zone. Almost daily trips are made of Snizhne, Khartsyzsk, Yenakievo, Thorez, and Donetsk.
428 people have been accommodated in the tourist bases, in sanatoriums and camps outside the war zone. First of all, they are orphans, mothers of large families with minor children and critically ill patients (oncology, diabetes, hepatitis, HIV, mental disorders), and pensioners. The temporary migrants are provided with free accommodation and meals.
4 people have obtained targeted assistance for treatment and rehabilitation.
7,850 people were rendered with humanitarian aid. Food kits, personal hygiene products, baby food, diapers, medicine have been delivered to the residents and temporary migrants in Regions of Donetsk and Lugansk.
In addition, the SCM Group in the framework of Humanitarian Centre have rendered the following humanitarian aid:
• Metinvest regularly provides humanitarian help to the residents of Avdiivka, including a local hospital, where 6 oxygen cylinders have been transferred. Volunteers also organized a weekly distribution of food packages to Mariupol.
• DTEK continuously restores the power supply in the ​​ATO zone and addresses the problem of water supply to the residents of Rovenkiy - the company provides people with free water from the wells of its enterprises
• "Shakhtar" FC has rendered humanitarian aid to displaced children in the camps on the Azov Sea coast. The club has also provided a sick child from Artemovsk with a five-month supply of insulin.
Поделиться новостью:
STATISTICS AS OF 21.01.2018
THE HUMANITARIAN CENTER IS OPERATING FOR
issued
11 978 894
food packages
where
11 107 647
are adult packages and
871 247
are packages for children
from 0 to 35 months old
Read all news
Rinat Akhmetov
Humanitarian Center
© 2018
CONTACTS
0800 509 001
Mon-Fri, from 9.00 to 18.00