Пресс-центр
Новости
Restoration of Power Supply in Donetsk Region Updates. DTEK Summary for 16 August
17.08.2014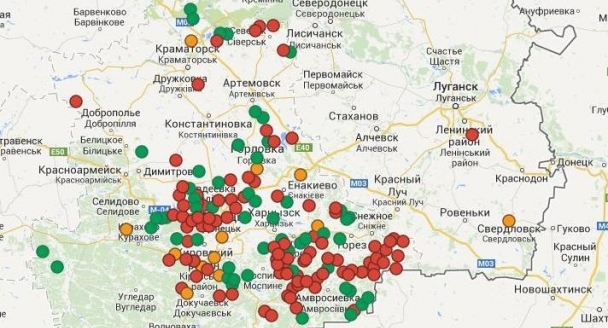 On August 16, 41 DTEK Power Engineer were involved in restoration of power supply in the Region of Donetsk within 15 teams and 28 cars, using special equipment.
Major events of the day:
• "Nord" PJSC was energized in Leninskiy District of Donetsk.
• Reliability of Yenakievo steelworks power supply was enhanced – the backup power supply line was connected.
• In Donetsk, thanks to the efforts of DTEK Donetskoblenergo employees, the power supply was provided to residents of Yuzhnyy, Solnechnyy, Mirnyy, Tekstilshchik Microdistricts of Kirov District, Microdistricts of Shyrokyy, Zvezdnyy, Goluboy of Leninskiy District, and the most part of Petrovskiy District.
• In Donetsk, teams of DTEK HV network provided the power supply to the residents of Privokzalnyy and Oktyabrskiy Microdistricts of Kuybyshevskiy District. The voltage is also supplied to 5 thousand of inhabitants of Putilovskiy micro-districts of Kievskiy District.
• In Donetsk the electricity supply was restored at LLC "Remkommunelektrotrans" plant, buildings of Regional Pension Fund, City Tax Inspectorate in Kievskiy District, as well as the "Tochmash" plant. They were de-energized due to the damage to transmission line caused during the hostilities on August 15.
The hostilities have de-energized the following:
• 74 settlements in Donetsk region are still de-energized (including partially or fully):
Peski, Vodyanoe, Nevelskoe, Pervomayskoe, Netaylovo, Umanskoe, Novopetrovka, Semenovka, Grigorevka, Krinichki, Stepano-Krynka, Russko-Orlovka, Pokrovka, Grabskoe, Mnogopole, Agronomicheskoe, Leperskoe, Poltava, Kuteynikovo, Metallist, Klyonovka, Elizavetonikolaevka, Bondarevo, Grigorevka, Volodarskoe, Novaya Derevnya, Zerkalnyy, Pobeda, Merezhki, Svobodnyy, Zelenoe, Sadovoe, Novonikolaevka, Verbovka, Fedorovka, Stepnoye, Vyselki, Ovoshchnoe, Bolshoe Meshkovo, Svistuny, Kobzari, Karlovka, Staromihaylovka, Pervomayskiy, Gorbachevo, Berezovskiy, Grishki, Pokrovka, Vonogradnoe, Voykovo, Novopelageevka, Tretyaki, Zorka, Kozhevni, Dubrovka, Peredereevo, Peresypnoe, Zrubnoe, Chugunokrepinka, Marinovka, Stepanovka, Saurovka, Tarany, Latyshevo, Dmitrovka, Vodianoe, Shaposhnikovo, Zarosschenskoe, Revino, Veseloe, Spartak, Novogrigorevka, Lebyazhyy, Vasilevka.
• A big part of Gorlovka remains without the power supply. On August 8th, Gorlivka-110 kV substation was damaged by a shell; about 80% of the city - 260 thousand people – found themselves without the power supply. Micro-districts of Rumyantsev, Quarter 51, Mirnyy, and settlements of Aksenovka and Novogorlovka were de-energized. The Kirov Machine-Building Plant and the tram and trolleybus city administration were also de-energized. Gorlovka dairy factory, meat processing plant remain de-energized. Because of the damage caused to high-voltage lines by fragments of projectile, factories of "Stirol", "Elastomer" LLC, and knitting factory are de-energized.
• In Donetsk, the Grabari settlement in Kuibyshev district, three multi-storey houses remain de-energized.
• GLP-2 Substation at the "Tochmash" plant was mined in Donetsk
On August 16th brigades of Gorlovka, Gorlovka Vostochnaya, Avdeyevka, Torez, Shakhtarsk, Debaltsevo, Snizhne RES of DTEK Donetskoblenergo and DTEK High-Voltage Networks Khartsyzsk, Donetsk, Gorlovka networks have not been able to carry out the repair works due to the hostilities.
In a number of cities of the Region of Donetsk payment for utilities is carried out only in the cashless form via internet banking. As of 16 August, cash payment through Oschadbank is temporarily unavailable in the cities of Donetsk, Maryinka, Yasinovataya, Shakhtersk, Thorez, Gorlovka, Yenakievo.
https://mapsengine.google.com/map/u/0/edit?mid=zGJ8Z-UB1UOs.kqTzEHJnzQ0s&hl=ru
Поделиться новостью:
STATISTICS AS OF 21.11.2017
THE HUMANITARIAN CENTER IS OPERATING FOR
issued
11 928 913
food packages
where
11 060 066
are adult packages and
868 847
are packages for children
from 0 to 35 months old
Read all news
Rinat Akhmetov
Humanitarian Center
© 2017
CONTACTS
0800 509 001,
Mon-Fri, from 9.00 to 18.00