Пресс-центр
Новости
Answers to Questions Regarding Humanitarian Aid, which we are asked. BLOG of Darya Kasyanov for LB.UA
17.08.2014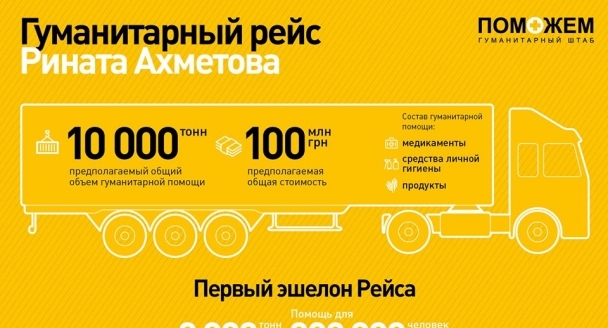 On August 15 the Humanitarian Centre of the Rinat Akhmetov Foundation announced opening the line on delivery of humanitarian aid to the war zone in the amount of 10 thousand tons – it is over 500 trucks that will transport food, water, medical drugs, medical supplies and personal hygiene items to Donbass. The first batch of about 100 trucks will go into the war zone as early as next week.
For the last day after this announcement the Humanitarian Centre and I personally was repeatedly asked the question - why are you doing this, why are you sending such a big help if 80 trucks with Ukrainian aid and 280 trucks with Russian humanitarian aid are already driving to the war zone. And charitable foundations and international organizations regularly announce on sending food and medicines.
Literally we have to answer point by point.
Firstly, all declared and already sent aid is not enough. According to different estimates there are from one to three million people in the war zone now. The situation is very tense. People do not have food, medicine and water. Welfare payments are suspended, bank branches and cash machines do not operate, so people cannot buy the most necessary things, even where the shops and pharmacies work. Despite the everyday evacuation, there are still many old people, women, children, children having asthmatic and bronchial diseases in the ATO area - all this information we get from daily calls to the hotline of the Humanitarian Centre. According to minimal estimates, the necessary amount of humanitarian aid is about 40 thousand tons per month or 10 tons per week. Thus, all declared Ukrainian and Russian aid will only last for four days. Of course provided that it will be transported to everyone who needs it.
Secondly, the help is needed not only in the war zone, but also in the places of compact settlement of the displaced residents. Tens of thousands of people are staying now in such places in Donetsk and the Region of Lugansk alone, as well as in the nearby Regions of Dnepropetrovsk, Kharkov and Zaporozhye. They also need food, water, medicine - for example, now there is a significant growth of head lice, chicken pox and other diseases in many of these places.
That's why Rinat Akhmetov decided to open a humanitarian line in the amount of 10 thousand tons, and is ready to increase it in case of necessity. That is why the Humanitarian Centre appeals to all those who can and want to help, to take part in humanitarian assistance programs.
Thirdly, we should be able not only to bring and pack this humanitarian aid, but also to deliver directly to the people. And this is the biggest problem and the biggest challenge to date. Of course, to do this we need storage terminals, points for packaging of products and medicines in individual packages. But these are technical questions, and they are solved. The problem is that a real war keeps going out in Donbass, there is firing every day, the aid delivery in war requires the creation of humanitarian corridors, a significant number of approvals, involvement of intermediaries and goodwill of the people with arms.
Fourthly, humanitarian aid must be delivered to the people, but it also necessary accurately account for their real needs as for this aid. A simple example - in July we and other organizations brought a lot of insulin in the war zone, but it turned out that hospitals and inpatient facilities practically do not have critically needed bed sheets and bandaging materials. And these examples are myriad. Because all donors have only a few scattered pieces of information – nobody has the full information today.
Therefore we call on all those involved in humanitarian assistance programs - the central and regional governments, charities and voluntary organizations, the UN missions and the Red Cross - to exchange information and coordinate their actions to provide humanitarian assistance. And, of course, we are ready to share information, coordinate and integrate our efforts.
That's just the points I answer the questions of my friends and acquaintances. The questions of all those concerned with the topic of humanitarian assistance. And finally I would like to add that we still have a great need for public support. It will attract even more help, allow negotiating the establishment of humanitarian corridors, will lead to exchange of information and coordination of activities. In order to deliver food, drugs and medical supplies to everyone who need it.
Source: http://blogs.lb.ua/darya_kasianova/276361_otveti_voprosi_gumanitarnoy.html
Поделиться новостью:
STATISTICS AS OF 23.11.2017
THE HUMANITARIAN CENTER IS OPERATING FOR
issued
11 928 913
food packages
where
11 060 066
are adult packages and
868 847
are packages for children
from 0 to 35 months old
Read all news
Rinat Akhmetov
Humanitarian Center
© 2017
CONTACTS
0800 509 001,
Mon-Fri, from 9.00 to 18.00