Пресс-центр
Новости
Avdiivka Coke Plant Delivered Humanitarian Aid to the Old City of Avdiivka
16.08.2014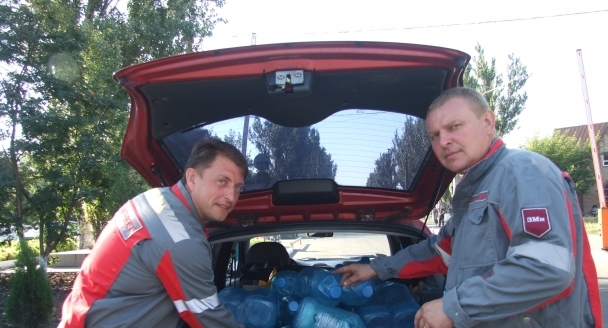 Employees of PJSC Avdiivka Coke Plant as part of operation of Humanitarian Centre delivered humanitarian aid to the old city of Avdiivka.
Two volunteers of Humanitarian Centre – Okhrimenko Oleksandr from the shop No. 3 and Pavlyak Aleksandr (not an employee, but he provided his personal transport on his own free will) risked their lives to deliver 100 product packages.
Throughout the week the suburbs of Avdiivka are regularly subject to shooting. That is where Sportyvna Street is located. Over two weeks the residents live without light and water with constant firing and bombing.
On August 15 those workers who have got children received diapers (51 packages were issued in total). There is no water in the city, so mothers are in difficult situation – they have to find water somewhere to wash the children's clothes. The most difficult life is for people who live in apartment blocks.
Goryaynova Yana Vladimirovna, the Trade Worker, unemployed now, resides in Sportyvna Street:
"Special thanks to Metinvest for their support. We almost live in the war area and we had not even had a hope that someone will remember of us. The residents are afraid to leave their homes in order not to catch the fire. And suddenly we have got such a surprise".
Butkevych Vladimir Igorevich, the Head of Department for Investment Analysis and Reporting, plant management.
"I've got a son Andrey who is 2 years. Now many shops in the city are closed and it is impossible to buy really important products for children. There is no baby food, personal hygiene means. 40 diapers are not that much, but they are much needed. Babies are more vulnerable today. Thanks to Metinvest this takes care if their employees and their families".
Поделиться новостью:
STATISTICS AS OF 21.11.2017
THE HUMANITARIAN CENTER IS OPERATING FOR
issued
11 928 913
food packages
where
11 060 066
are adult packages and
868 847
are packages for children
from 0 to 35 months old
Read all news
Rinat Akhmetov
Humanitarian Center
© 2017
CONTACTS
0800 509 001,
Mon-Fri, from 9.00 to 18.00