Пресс-центр
Новости
Restoration of Electricity Supply in the Region of Donetsk
16.08.2014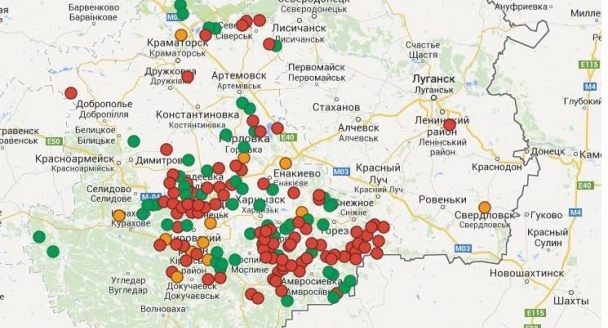 Main events of the day regarding restoration of electricity supply in Donetsk oblast
Supply of electricity was restored in the Port of Mariupol, Berdiansk, Yalta, Primorye, Pervomaiskoe. Energy supply to the residents of Mariupol was completely restored as well. Deenergizing occurred on August 14, at 16:30, when due to technical failures the station Azovskaia-220 of Donbas energy system was disconnected. Currently all the failures are removed.
In Donetsk the workers of DTEK restored the supply of Abakumov mine, Skochinsky mine, Trudovskaia mine and Chekist mine, which were deenergized in the night on August 14-15 due to the damage of high voltage lines during the fire. Since August 01 the mines had been deenergized for the 7th time.
In Donetsk about 16000 of people's apartments are connected to electric supply (Shyrokii, Lidievka. Biruzova, Kirovsky districts as well as Trudovskie settlement of Petrovskii district).
At 17:30 electric supply of the Yuzhnyi Water Unit in Donetsk, which supplied weater to Petrovskii and Kirovskii districts, was restored by the teams of DTEK. The water unit was deenergized in the night (august 14-15) due to war actions.
Most part of Mariinka (Mariinka region) is connected again.
Settlements Tsubki and Pevchii (Region of Shakhtersk ) are energized.
The following deenergizing actions occurred due to war actions:
In the night from August 14 to August 15 due to the damage of high voltage line of Smolianka station, supplying power to the South-Western part of Donetsk, over 60000 of residents were deenergized n Kirovskii, Petrovskii and Leninskii Regions of Donetsk.
80 settlements remain deenergized (partially or fully) in Donetsk oblast.
Most part of Horlivka is deenergized. On August 8 Horlivka station (110 kW) was damaged with a missile. 80% of the city became deenergized (260000 people). Rumiantseva, 51st quarter, Mirnyi districts are deenergized as well as Aksionovka and Novohorlovka settlements. Kirov Machine Building Factory, municipal tram and bus administration, Horlivka Milk Plant, Horlivka Meat Factory remain deenergized. Due to the damages of high voltage lines caused with mines such objects as Stirol, Elastomer and knitting factory were deenergized.
The residential districts Yuzhnyi, Solnechnyi, Mirnyi, Tekstilshchik, Kirovskyi, Shyrokii, Zviozdnyi, Holuboi, Leninskii, most part of Petrovskyi district in Donetsk are deenergized. PJSC Nord in Kirovskii district of Donetsk is deenergized due to the war actions.
3 multi-storeyed buildings in Hrabari settlement of Kuibyshevskii district of Donetsk remain deenergized.
Station HPP-2 in the territory of Tochmash factory is mined.
On August 15 the teams of Horlovka, East Horlovka, Avdeevka, Torez, Shakhtersk, Debaltsevo, Snezhnoe distribution zones of DTEK Donetskoblenerho and Khartsyzsk, Donetsk, Horlovka networks of DTEK of high voltage had not got any opportunity to carry out repair and restoration works due to tee war actions.
Поделиться новостью:
STATISTICS AS OF 24.11.2017
THE HUMANITARIAN CENTER IS OPERATING FOR
issued
11 928 913
food packages
where
11 060 066
are adult packages and
868 847
are packages for children
from 0 to 35 months old
Read all news
Rinat Akhmetov
Humanitarian Center
© 2017
CONTACTS
0800 509 001,
Mon-Fri, from 9.00 to 18.00