Пресс-центр
Новости
How a Priest, Andrey Pinchuk, Organized a Refugee Centre. 729 of Their Refugees were Evacuated by the Humanitarian Centre
15.08.2014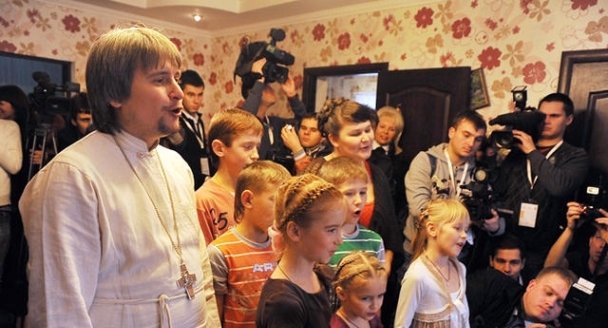 The Segodnya Newspaper published an article about the priest, Andrey Pinchuk, who organized a Refugee Centre cooperating with the Humanitarian Centre of Rinat Akhmetov Foundation
The Refugee Centre in the village of Volosskoye admitted hundreds of migrants, many of whom were mothers with small children.
The very first woman who came to the priest Andrey Pinchuk, the Head of the Supervisory Board of the Aid+Help Foundation, to bring some food products to migrants from Donbass was local. She brought a big bowl of freshly picked strawberries and burst into tears. "What is your name?" the priest asked. - Tell me your name, we will pray for your health." But the woman continued to cry and had gone without saying her name.
Today, hundreds of organizations and thousands of people are helping the priest, Andrey Pinchuk, and Aid+Help Charity Foundation in the resettlement of displaced people who were evacuated from the ATO zone. They are mainly the residents of Regions of Donetsk and Lugansk. The people are accommodated in the Refugee Centre for temporary accommodation with children in the Village of Volosskoe, Region of Dnepropetrovsk.
"Here, the tormented people can find fresh linen, four meals, the opportunity to acquire items of personal care, clothes, and everything they need for their children. There is a playground arranged by the river, animators regularly attend to the children and, in the evenings, movies are shown. There is also a fence and a security guard around the camp. This guarded fence is very important for many new-comers. It is a symbol of their security. Safety is the key word and concept here. The refugees know its real price,"- Father Andrew says.
Children in the camp constitute exactly half of all the immigrants. "They quickly adapt to life without shooting, playing in the yard and enjoying the clowns-volunteers. And, of course, we are grateful to everyone who donates... There are many kind-hearted people indeed! They bring food products, clothing. Children even had a pony ride. Psychologists also work with the kiddies to do something to help forget the horrors of war. Clearly, once all of it cannot be forgotten and smoothed out ... One textile factory gave us 200 sets of underwear - workers went to work at the weekend, on the feast of the Holy Trinity, and sewed new linens for our Centre. Fuel is also supplied by helpers, this is very important now. But what's most important, is to get people out of the danger zone. We address this issue in cooperation with the Rinat Akhmetov Foundation. The Foundation extricates, we admit them, accommodate...
We have already given food and shelter to 729 settlers who have been evacuated by the Akhmetov Foundation. The staff works very effectively: so many children, women, the sick and infirm they have saved! On behalf of the whole team of our Aid+Help Foundation, I want to thank the Rinat Akhmetov Foundation for their efforts on the evacuation ... It's really a lot of work for the good of the people.
And so many cases have happened! Someone came with the newly born babies - two-, three-day olds. And one pregnant woman was coming with four children, and on her way her water broke ... We met her with a mobile ICU. Saved. Settled ..." the priest says.
By the way, Father Andrew is a father and a child caregiver to a family type children's home, while the Aid+Help Charitable Foundation is a long-time partner to Rinat Akhmetov Foundation program "No to Orphancy". And now, to the main objectives of both foundations, the assistance to refugees and victims in the ​​ATO zone has been added.
"Oftentimes, people are so hasty to leave, that they do not have even the basic things - no comb, or toothbrush... Those people whose homes are totally destroyed also come to us" Father Andrew says. – "Large families often come. One woman was carrying not only her own children with her but her neighbour's children, and even the kids from across the nearby street.
Gradually, adults find jobs - someone from farmers, someone cooks, cleans right here, in the Centre... Benefactors offer vacancies in their companies. Little by little, they serve in parishes.
One more story I want to tell you is about an elderly woman who, having settled in the Centre, immediately started to find out how she could help the volunteers. And nearly on the second day she harnessed to work along with others: she helped in the kitchen, solved organizational problems. It is not often when you meet such understanding, and a proactive stance, taking into account of her middle age. She was about to go to some distant relatives with whom she called up only twice in her life. Now she will have a closer look. However, even she, cheerful and active, had a breakdown in a week: "I want to go home ... But there is nowhere to return."
The Aid+Help Foundation now assists to not only the displaced ones; the volunteers round up support ​ to victims in the ATO zone, have delivered humanitarian aid to Slovyansk and help there with repairs (not capital ones).
The priest's family is also involved in volunteering. His son is a night custodian. He meets and settles those who got to the Region of Dnipropetrovsk by night, providing them with everything requisite.
"How can we help you and those who you patronize?" we ask father Andrew.
"A lot, - he says. - And you can not only help us. Just look around, and stretch a helping hand to those who are close to you! "
Source: http://www.segodnya.ua/regions/donetsk/v-centre-pomoshchi-bezhencam-starayutsya-vernut-detyam-detstvo-i-obespechit-bezopasnost--544662.html
Поделиться новостью:
STATISTICS AS OF 14.12.2017
THE HUMANITARIAN CENTER IS OPERATING FOR
issued
11 953 497
food packages
where
11 083 335
are adult packages and
870 162
are packages for children
from 0 to 35 months old
Read all news
Rinat Akhmetov
Humanitarian Center
© 2017
CONTACTS
0800 509 001
Mon-Fri, from 9.00 to 18.00