Пресс-центр
Новости
The Aid from the Humanitarian Centre and Mission "Charity without Limits" was Delivered to Lysychansk
15.08.2014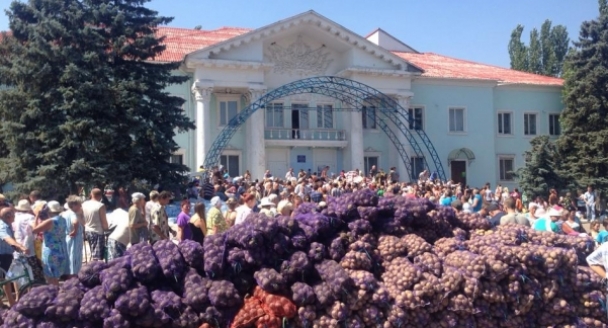 Фото с фб-странички Захария Керстюка
Yesterday the freight with humanitarian aid collected by volunteers and all the non-indifferent people was sent from Kyiv to Lysychanks under the guidance of his holiness Zakhariy Kerstyuk. In total 3 trucks filled with products, water and articles of daily necessity were sent to the area of anti-terrorist operation. Total tonnage id 63 tons, 20 of them were provided with Humanitarian Centre of Rinat Akhmetov Foundation, which also joined this mission.
"Now people mostly are afraid to help, because they consider the residents of the Eastern Ukraine to be terrorists. I try to convince everyone that the number of civilians is ten times bigger than the number of terrorists. We recorded dozens of cases of starvation of little children, nurslings. Now the hardest humanitarian situation can be observed in the area of Lysychansk", says his holiness Zakhariy Kerstyuk.
Due to mutual attempts the residents of Lysychansk will soon get a valuable (in war conditions) freight – cereals, vegetables, baby food and other articles of daily necessity.
"People who live in Regions of Donetsk and Lugansk lack water, food, articles of daily necessity and medicines. Since it is important for our society to become united and provide assistance", says the Coordinator of Humanitarian Centre Rimma Fil. "Rinat Akhmetov preaches the philosophy of maximum assistance to those in need in the Donbass. He supported the offer of his holiness Zakhariy".
Every package of cereal will be delivered to those people who are in the utmost need of it. Firstly, these are the starving children. The trucks are unloaded in the churchyard with assistance of orthodox community and volunteers and distributed among the people in need.
The trucks left Kyiv yesterday and today we expect humanitarian aid to be delivered to Lysychansk. The initiator of campaign, his holiness Zakhariy, is sure that every second is precious, as the people's life depend on it.
Поделиться новостью:
STATISTICS AS OF 21.01.2018
THE HUMANITARIAN CENTER IS OPERATING FOR
issued
11 978 894
food packages
where
11 107 647
are adult packages and
871 247
are packages for children
from 0 to 35 months old
Read all news
Rinat Akhmetov
Humanitarian Center
© 2018
CONTACTS
0800 509 001
Mon-Fri, from 9.00 to 18.00