Пресс-центр
Новости
A School Teacher from Gorlovka Saved 14 Students and the Humanitarian Centre Helped to Accommodate them in Berdyansk
14.08.2014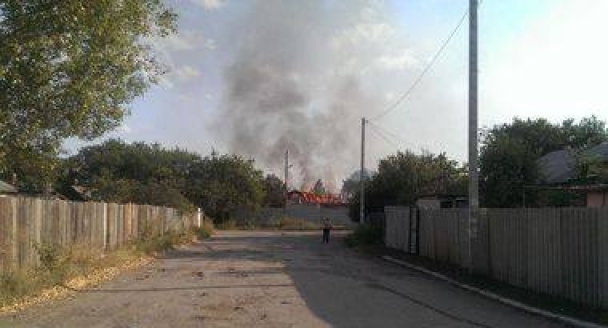 Nina Dmitrievna, the math teacher at the School of General Education No.73 in Gorlovka, eloigned 20 people, including 14 students, out of the city.
In the beginning of August, when the combat activities started to develop in Gorlovka and it became dangerous to stay in the town, Nina Dmitrievna reached out for help to the Vostok-SOS Organization. The volunteers from Vostok-SOS got in touch with the Cherkasy Regional State Administration, which provided them with transportation but the bus could not get into Gorlovka and had to stop in Krasnoarmeysk to wait for the woman and her students there. The teacher took all the responsibilities for her students and made a decision to leave the city on her own.
My student's family friend gave us a ride to Krasnoarmeysk. We took a lot of detours on sideway roads to avoid the DPR's block posts. Fortunately, the driver was very familiar with the place. And in Krasnoarmeysk we got into the bus, which took us to Cherkasy, said Nina Dmitrievna.
At first, the refugees were accepted at the Region of Cherkasy, but there was not enough accommodation for a long stay there. Nina Dmitrievna contacted the Humanitarian Centre of Rinat Akhmetov Foundation, which takes care of evacuation and finding accommodation for the refugees. And in the beginning of August, owing to the foundation, part of the children moved to one of the summer camps near Berdyansk, where they will be able to stay till the end of summer. Nina Dmitrievna stayed at one of the sanatoriums in the Region of Cherkasy, together with her mother and two grandchildren.
The woman is not going to give up and is now seeking to arrange for evacuation of four more families from other cities in the region.
Source – the Segodnya Newspaper, The Humanitarian Centre of Rinat Akhmetov Foundation.
Поделиться новостью:
STATISTICS AS OF 18.12.2017
THE HUMANITARIAN CENTER IS OPERATING FOR
issued
11 953 497
food packages
where
11 083 335
are adult packages and
870 162
are packages for children
from 0 to 35 months old
Read all news
Rinat Akhmetov
Humanitarian Center
© 2017
CONTACTS
0800 509 001
Mon-Fri, from 9.00 to 18.00