Пресс-центр
Новости
Humanitarian Insight. Blog by Rimma Fil for Segodnya.ua
14.08.2014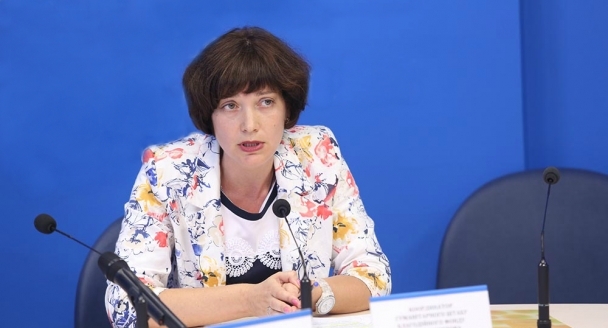 Rimma Fil, coordinator of the Humanitarian Centre of Rinat Akhmetov Foundation, has published the blog for segodnya.ua. Please find below the text of the blog.
Many words happened to coincide which seemed to be strange a few months ago. For example, "humanitarian disaster".
I have always considered this word combination to be applied with reference to the African countries. I could not imagine it even in the nightmare that someone would ever tell this about Donbas, which is so proud and strong, in the midst of hi-tech epoch of XXI century…
As I asked my colleague from Lugansk during our evening talk such a trivial issue "How are you?", she, who is known to me as a rather strong and optimistic person, replied to me: "The friends of mine buried their mother in the yard. Without a coffin".
I could not have fallen asleep.
I was thinking over the fact that it is a humanitarian disaster itself.
Disaster means to actually leave 21 persons dying in retirement home in a city, where battles have been fought for almost a month, just because no one managed to convince the current "masters of common life and destiny" to stop the battles.
Disaster means the absence of water in a city for 60 days. And the canal keeps being attacked by fire. When hospitals run out of medicines and shops run out of food – it is the other side of disaster.
The words are difficult to find. They are always difficult to find when there is something important to tell about. For instance, about people of spirit.
These days I have talked to almost every chief physician of every Donetsk hospital. The types of aid and ways to aid on the part of Humanitarian Centre of Rinat Akhmetov Foundation were the essence of our discussion.
They are all in their places – these legendary chief physicians… Those ones, who managed to create the best national clinics, live in fear. But somewhere many years ago they have taken the Hippocratic oath. Now there are only they – giants of medicine, and average medical staff left. Plus patients. Severely ill patients.
It was a terrible and unusual thing for me to read through the list: water tanks, generator. And, surely, the story of losses due to war.
It is impossible to describe the pain in voice of Professor Chayka who has devoted all his life to maternity patients and who is now forced to hide expectant mothers from fire in a cellar.
The war became ingrained into our everyday life, having split the life into BEFORE and NOW, with a dream of AFTER.
It changed us much, set the priorities and made it clear what you love and whom you love.
This week in a line of other escape stories, which can be considered detective novels by plot and tragedies in their essences, I found one indicative story.
In Makeevka there is a special foster home for difficult youth or, speaking in a legal language, for juvenile delinquents. They are deprived boys who live through their grown-up problems. All of them are 13-14 years of age. It is "the angriest" age and it is almost service age according to the "laws" of so-called Donetsk People's Republic.
The Humanitarian Centre together with all the non-indifferent people – volunteers, authorities, management of the Centre – were saving the boys from being called up for military service and even developed the whole operation.
They managed to take 26 boys out of the region. I was impressed not with the operation itself, but with the absence of any guard, they were just escorted by the management of foster home. The boys were so scared with war that escape was out of the question.
Now they are safe and secure. And for some reason I think that these 26 boys will be good people. They already had got either crime or punishment in their lives.
The issue is more complex with elderly people from retirement homes. They had already been kicked out of their own homes and now they are taken to the strange land to live in their final days.
No money. No medicines. No roof over the head. How to survive and how to keep living? Every story is a drama. 4800000 dramas. Large-scale and small-scale humanitarian disasters.
Now, when there is a war on, we have to think of peace. Do not dream, make! The war will be over. And the hottest question will arise – how to keep living with this disaster, with this bloody wound?
It will be the most serious exam for our authorities: to tie together, to unite, to ease the pain.
Today, when the war theme is "in fashion", we shall think of peace more than ever.
The phones in the Centre keep ringing.
I am typing this and in the next room the girl answers the calls from the hotline of the Centre. I hear those stories: war veteran of 88 years, who barely walks; another call from a person of 55 years with hemodialysis, who needs to be taken from one hospital to another; another man asks to assist with evacuation of his two friends – lonely women. They ask to bring them food, water and medicines in case their requests are impossible to fulfil. Those women cannot leave their homes.
There is a great variety of such stories. And every person needs aid or mere support.
When people call and almost cry as they tell of their fear, because there so little time left and they would not be able to wait for evacuation in a couple of days – then it is a disaster.
And kind of humanitarian insight.
P.S. 1:00 a.m. The phone keeps ringing. People ask to assist them with escape – they run out of every building entrance.
Rimma Fil, the Coordinator of Humanitarian Centre of Rinat Akhmetov Foundation
Source - http://www.segodnya.ua/blogs/filblog/blog-gumanitarnoe-prozrenie-544277.html
Поделиться новостью:
STATISTICS AS OF 21.11.2017
THE HUMANITARIAN CENTER IS OPERATING FOR
issued
11 928 913
food packages
where
11 060 066
are adult packages and
868 847
are packages for children
from 0 to 35 months old
Read all news
Rinat Akhmetov
Humanitarian Center
© 2017
CONTACTS
0800 509 001,
Mon-Fri, from 9.00 to 18.00