Пресс-центр
Новости
"Rinat Akhmetov to children!" campaign: 17 years of good tradition
19.12.2017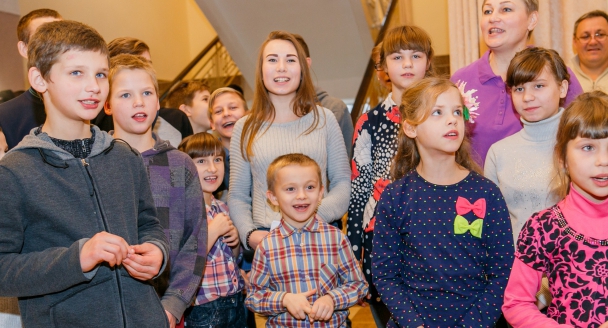 Rinat Akhmetov gives presents to children each year, on the eve of St. Nicholas Day and ahead of the New Year holidays. The initiative of the FC Shakhtar president was introduced in 2001, eventually turning into a large-scale charity event.
This year was no exception: 100,000 children will receive gifts from Rinat Akhmetov, including kids, deprived of parental care: nearly 6,000 orphans and pupils at boarding school and family-type children's homes in Donetsk region will also enjoy their gift sets.
The campaign started long ago, in 2001, when Rinat Akhmetov and his friend Ihor Krutoi, began to attend boarding schools and hospitals in Donetsk on St. Nicholas Day. For many years the businessman and the composer have been helping the institutions financially and greeting the kids with holiday presents. These days, the event format has changed, but its goal has remained the same - giving warmth and joy to every child.
"The good tradition is 17 years old. Over the past three years only, more than half a million children have received gifts from Rinat Akhmetov. Helping children has always been and remains a priority for Rinat Leonidovych. This is particularly important now, at the tough time for our country, to continue taking care of the kids whose childhood has been adversely affected by the war. To support them, to give them warmth, care and, of course, the New Year's Eve miracle", pointed out Oleksandr Vyshniakov, the director of Rinat Akhmetov Humanitarian Centre.
In addition to gifts, the children will receive a true New Year's holiday. The festive events for children from family-type children's homes start on December 18 in the "Avangard Hall" of Kramatorsk. Five hours of merry morning performance, creative workshops, games and family competitions are waiting for boys, girls and their adoptive parents.
Festivals with gifts within "Rinat Akhmetov to children!" campaign will also be held for the small residents of Sviatohirsk, Mykolaivka and Mariupol on the New Year's Eve.
Поделиться новостью:
STATISTICS AS OF 18.01.2018
THE HUMANITARIAN CENTER IS OPERATING FOR
issued
11 978 894
food packages
where
11 107 647
are adult packages and
871 247
are packages for children
from 0 to 35 months old
Read all news
Rinat Akhmetov
Humanitarian Center
© 2018
CONTACTS
0800 509 001
Mon-Fri, from 9.00 to 18.00