Пресс-центр
Новости
More than 140 million volunteers celebrate the Volunteer Day annually
05.12.2017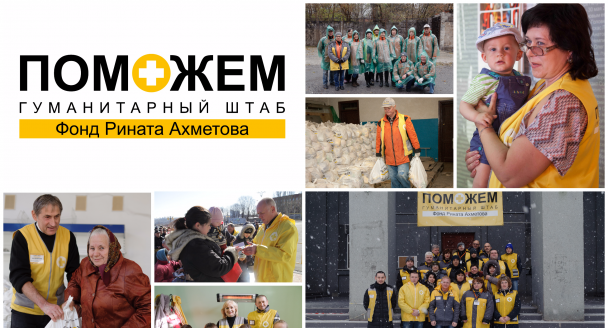 According to the UN, there are approximately 140 million volunteers worldwide. In Ukraine, 14% of Ukrainians were engaged in volunteer activity during the past year. Now these people's help is especially important and necessary in Donbas.
The International Volunteer Day is celebrated annually on December 5. On this day, congratulations are taken by those who are compassionate to any other's misfortune, who are always ready to help. Volunteers are also part of the team of Rinat Akhmetov Center, the largest humanitarian mission in Ukraine. More than 5,000 volunteers have taken part in the Humanitarian Center activities. Thanks to this, the Center daily saves the most valuable we have - during three years' work it has managed to save more than a million lives.
The Center volunteers helped to evacuate people from the conflict zone, delivered medications to the sick and organized the fixed distribution centers. However, the main focus of their work remains humanitarian assistance. Volunteers receive and unload trucks, check products, and also form survival kits that are delivered and given to the people in need.
"These people, responding to the social challenges and pain of others every day, are always ready to support those who need help. During the war many of them became a reliable support for thousands of the most unprotected inhabitants of Donbas: children, elderly and disabled people. In August 2014, the first product convoy arrived in Donetsk. Then hundreds of volunteers at "Donbas Arena" completed survival kits for civilians," said Oleksandr Vyshniakov, the Director of Rinat Akhmetov Humanitarian Center.
For the last three years, the Center volunteers have handed out nearly 12 million survival kits on both sides of the demarcation line.
Поделиться новостью:
STATISTICS AS OF 18.01.2018
THE HUMANITARIAN CENTER IS OPERATING FOR
issued
11 978 894
food packages
where
11 107 647
are adult packages and
871 247
are packages for children
from 0 to 35 months old
Read all news
Rinat Akhmetov
Humanitarian Center
© 2018
CONTACTS
0800 509 001
Mon-Fri, from 9.00 to 18.00