Пресс-центр
Новости
In Ukraine, nearly 15,000 women are diagnosed with breast cancer every year
20.10.2017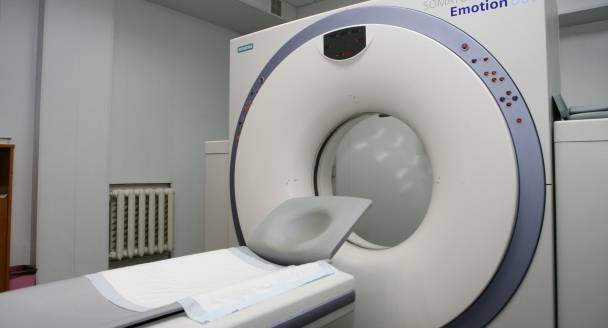 On October 18-20, the World Breast Cancer Day, representatives of the Rinat Akhmetov Foundation visited oncological dispensaries of Ivano-Frankivsk, Ternopil, Lutsk, Rivne and Chernivtsi with a monitoring visit. These medical facilities were provided with logistical support under the program "Cancer can be Cured".
In total, during the implementation of the program, which was launched in 2008, 15 units of the state of the art equipment were provided, both for the detection of cancer cases and for the treatment. Now the Foundation supplies products for free diagnostics of children and adult displaced residents to six oncological dispensaries.
The Fund also equipped a mobile complex "Mobile female counselling centre". According to Serhii Holotiuk, the mammologist of Ivano-Frankivsk regional clinical oncology department, almost 15,000 patients are diagnosed with breast cancer in Ukraine every year.
Among the expensive medical equipment that we purchased from 2008 to 2014 there are nine diagnostic devices and six units of the equipment for treatment.
"Today, none of our patients can do without radiotherapy. The modern radiotherapy apparatus, as well as the tomograph, which the Fund has purchased and installed, help to maximize the effectiveness of treatment and reduce health risks", said Leonid Shkrobot, the chief doctor of the Ternopil Region Oncology Dispensary.
The large scope of the surveys on the equipment provided is mentioned by Iryna Temerko, the head of programs and projects of the Rinat Akhmetov Foundation: "The goal of the 'Cancer can be Cured' program is to create conditions for improving the diagnostics of cancer patients with the help of the latest equipment and to introduce the best practices in cancer treatment. Nearly 80,000 patients were examined during the period of its implementation."
Поделиться новостью:
STATISTICS AS OF 21.11.2017
THE HUMANITARIAN CENTER IS OPERATING FOR
issued
11 928 913
food packages
where
11 060 066
are adult packages and
868 847
are packages for children
from 0 to 35 months old
Read all news
Rinat Akhmetov
Humanitarian Center
© 2017
CONTACTS
0800 509 001,
Mon-Fri, from 9.00 to 18.00