Пресс-центр
Новости
80 Donbas children took part in the project «Rehabilitation of injured children»
19.10.2017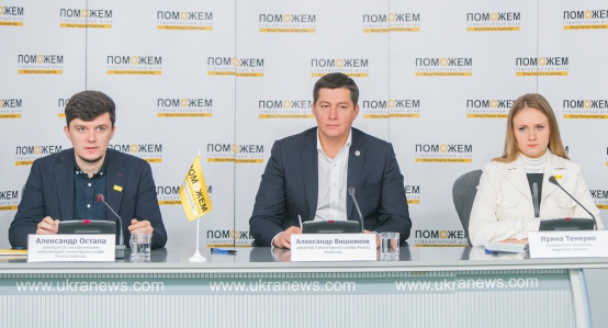 On October 19, the Rinat Akhmetov Humanitarian Centre held a press briefing on the subject of: "Rehabilitation of injured children: results of the 2 years' work".
Since the beginning of the project on March 10, 2016, 80 injured children from Donbas have received assistance. 71 of them underwent a course of rehabilitation treatment in health centres, 9 more were provided with technical means for recovery and medications.
"Parents from different parts of Donbas made hotline calls asking the Humanitarian Centre to help their injured children. Most applications for rehabilitation came from Donetsk, Mariupol, Avdiivka, Kramatorsk. Young people from Horniak, Krasnohorivka, Mariinka, Antratsyt, Yenakiieve and Khartsyzsk also received help," said Oleksandr Vyshniakov, the director of the Rinat Akhmetov Humanitarian Centre.
Iryna Temerko, the head of "Targeted Assistance" program, within the framework of which the project is being launched, reported that the majority of children who received help came from Donetsk region - 84.5%; 15,5% are from Luhansk.
Every fourth child with the most severe injuries underwent a recovery course more than once. For the rehabilitation course, health centres in Sloviansk, Berdiansk and Zaporizhzhia were chosen.
Deputy chief doctor of the "Sloviansk resort" health centre (Sloviansk) Volodymyr Tarelkin made a conference call to join the briefing and noted that the health condition of all the children, who had underwent a course of recovery, improved.
According to 2017 UNICEF report, the war in Donbas killed 70 children. Another 222 children got injuries of various degrees of severity.
Поделиться новостью:
STATISTICS AS OF 20.01.2018
THE HUMANITARIAN CENTER IS OPERATING FOR
issued
11 978 894
food packages
where
11 107 647
are adult packages and
871 247
are packages for children
from 0 to 35 months old
Read all news
Rinat Akhmetov
Humanitarian Center
© 2018
CONTACTS
0800 509 001
Mon-Fri, from 9.00 to 18.00