Пресс-центр
Новости
The 306th convoy of the Rinat Akhmetov Humanitarian Centre arrived in Donbas
16.10.2017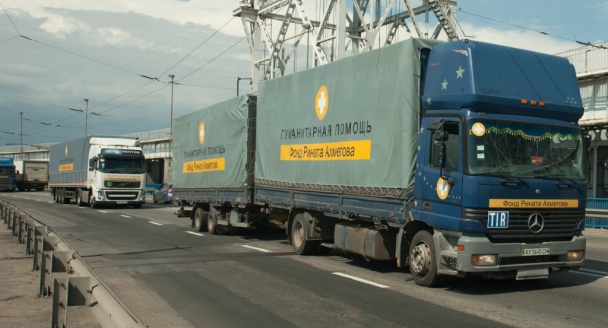 On October 16, the 306th convoy of Rinat Akhmetov Humanitarian Centre arrived in Mariupol. It delivered 240 tons of humanitarian aid to civilians living in the "grey zone" and on the government-controlled territory.
The goods enough for dozen trucks was loaded into the train in Dnipro, where the distribution centre of the Humanitarian Centre is located. All the goods that are parts of the packages undergo a five-stage verification system. Each product is purchased from domestic manufacturers directly. The convoy drivers have all the accompanying documents confirming the cargo contents and the quality of the products at their disposal.
"Today the Humanitarian Centre convoy delivered 240 tons of food packages to Mariupol. Such scheduled trips provide the mobile delivery teams and 25 stationary points of issue on the controlled area and in the "grey zone with a month time work", Mykhailo Katerynchak, the Head of "Humanitarian Aid" direction of the Centre said.
During the entire period of the project, volunteers issued about 12 million adults and children survival kits to the civilians of Donbas on both sides of the demarcation line.
Поделиться новостью:
STATISTICS AS OF 21.11.2017
THE HUMANITARIAN CENTER IS OPERATING FOR
issued
11 928 913
food packages
where
11 060 066
are adult packages and
868 847
are packages for children
from 0 to 35 months old
Read all news
Rinat Akhmetov
Humanitarian Center
© 2017
CONTACTS
0800 509 001,
Mon-Fri, from 9.00 to 18.00