Пресс-центр
Новости
A Fairy Racket on the Adoption Day
02.10.2017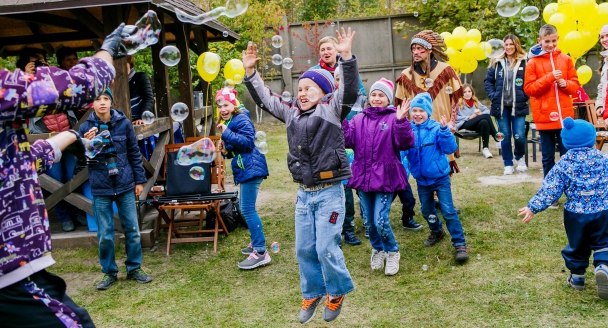 On September 30, an event was held in Kyiv on the occasion of the Adoption Day - the annual holiday of adoptive parents, guardians, foster parents and mentors.
27 children from family-type orphanages, foster families and guardians came from Kryvyi Rih, Kropivnytskyi, Kharkiv, Boryspil and Kyiv to immerse themselves in the magical world that was organized for them under the program "Say No to Orphanhood!"
"Once upon a time in a Fairytail. A Fairy Racket"- this was the name of a holiday quest in which children and adults made their way in the footsteps of the magical elves, finding clues, going through trials and collecting a "magic book", which, according to the legend, was torn by the hurricane of the evil wizard Charyvan.
To entertain parents and their children, an excursion to the TV channel "Ukraine" was also organized. Maryna Kukhar, a well-known journalist and presenter of the program "Today" accompanied the participants.
"There are thousands of children in Ukraine who were left without parental warmth. This is a great tragedy for a small person. Each child should have a family, this is the key to his formation as a person. In Ukraine, there are charitable organizations that help children find a family. And this care gives orphans a chance to live a happy life," the "Ukraine" channel presenter shared her emotions.
The festive event for the Adoption Day was organized by the Rinat Akhmetov Foundation within the framework of the "Say No to Orphanhood!" program, which has been operating in Ukraine for 9 years. During this time, more than 8,700 children have found new families. "Every child in Ukraine should live in a family - this is the philosophy of our program. The Rinat Akhmetov Foundation is doing everything possible for the children to live and be brought up in families. We provide assistance to foster families, family-type orphanages, and cooperate with residential institutions. Within the 9- months period of this year 397 children have found their new families. The questionnaires of another eight thousand children are published on our website. Children are waiting and hoping,"- said Nataliia Baryshpilska, the head of the "Say No to Orphanhood!" program.
At the end of the event, a festive standing reception was held and the children were presented with thick plaids warming in the cold autumn.
Поделиться новостью:
STATISTICS AS OF 18.01.2018
THE HUMANITARIAN CENTER IS OPERATING FOR
issued
11 978 894
food packages
where
11 107 647
are adult packages and
871 247
are packages for children
from 0 to 35 months old
Read all news
Rinat Akhmetov
Humanitarian Center
© 2018
CONTACTS
0800 509 001
Mon-Fri, from 9.00 to 18.00