Пресс-центр
Новости
A big house for large family
11.07.2017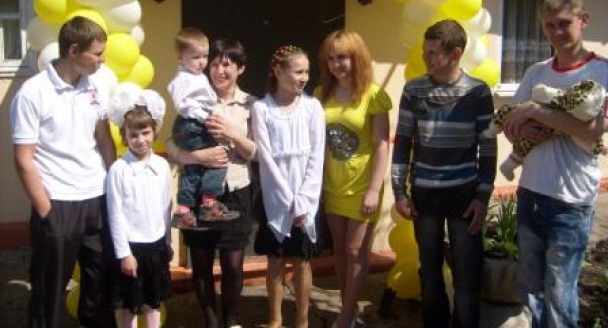 To the 12th anniversary of the Rinat Akhmetov Foundation, we are starting to publish a number of stories about the Foundation's activities and our large-scale programs and projects, such as Humanitarian Center, Say No to Orphanhood, Targeted Assistance, Cancer Can Be Cured, Dynamic Museum, Stop TB in Ukraine and many other. These are the stories of children and adults, who found themselves in difficult circumstances and were supported by the Foundation, which helped them to stay on their feet and overcome the challenge.
"Targeted Assistance" is one of very important programs of the Foundation. More than 20,000 people got help within this program. Since the establishment of the Humanitarian Center about 50,000 people got help from the Rinat Akhmetov Foundation.
In late 2012 there was a big fire in Horlivka, which destroyed the housing of a large family of Ivanov-Ditkov. There were nine people living in a two-room communal apartment. The fire deprived them of everything - housing, personal belongings and documents.
The tragedy happened because of the children's pranks, when parents were not home. Three-year-old Maxim was playing with matches and set the paper in the hallway on fire, which quickly spread throughout the house. 12-year-old Angelica and newborn Violetta were also at home at that moment. Angelica quickly reacted in the dangerous situation - she took her little sister and brother outside and even helped the firemen to fight the fire. "First I wasn't scared, then I was crying, because I was afraid that my mom will yell at me for not keeping an eye on my brother", – the girl shared.
Despite the efforts of Angelica and the firemen, the property could not be saved. To save the large family from living on the street, caring neighbours offered them shelter. Rinat Akhmetov found out about the family's misfortune.
"When Rinat Akhmetov saw a news report about the family, he was deeply touched by the girl's feat, by sincerity and involvement of friends and neighbors. The next day the Foundation's representative met the family", – Ihor Khadzhynov, the Manager of "Targeted Assistance", shared.
Rinat Akhmetov Foundation took the family under the wing and provided them with food, essentials and helped to have the documents reissued asap. It took a month to find an appropriate housing and reissue all the necessary documents. The family was found a good house with the total square of 150 sq. metres and seven acres of adjacent territory. February 10, 2013 marked the housewarming party of Ivanov-Ditkov family. The foundation gave them furniture, a refrigerator and a TV set, organized the manufacture and installation of a house fence.
"We are really thankful to Rinat Akhmetov. He responded to our misfortune, and we were not left without a roof over our heads. With a monthly income of UAH 1,300 we would never buy this house", – Liliia Ivanova, the mother of the large family, can hardly hold back the tears.
Поделиться новостью:
STATISTICS AS OF 19.01.2018
THE HUMANITARIAN CENTER IS OPERATING FOR
issued
11 978 894
food packages
where
11 107 647
are adult packages and
871 247
are packages for children
from 0 to 35 months old
Read all news
Rinat Akhmetov
Humanitarian Center
© 2018
CONTACTS
0800 509 001
Mon-Fri, from 9.00 to 18.00