Пресс-центр
Новости
Enhanced Rinat Akhmetov Humanitarian Aid will be Delivered to Donbas
27.11.2014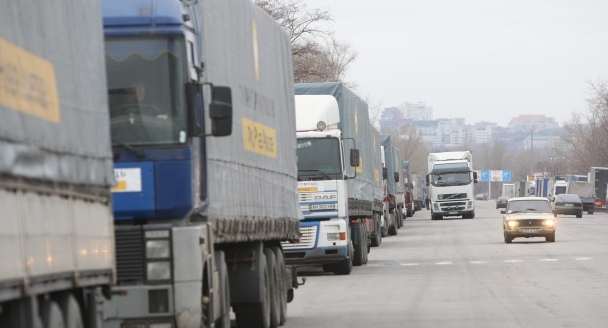 Today the Rinat Akhmetov Humanitarian Centre is starting to deliver enhanced food packages to Donbas. From now on the package will include, except flour, sugar, cereals, tinned foods, sunflower oil, biscuits and other products, also two cans of stewed meat, two packs of spaghetti, and a can of preserved corn. Within the current week 3,650 tons of products will be delivered to Donetsk.
"Rinat Akhmetov has set a task of lending maximum support to the residents of Regions of Donetsk and Lugansk who found themselves in trouble," – says Maksym Rovynskyi, the volunteer of the Rinat Akhmetov Humanitarian Centre. - Since August the Humanitarian Centre has been delivering food packages to peaceful population by means of humanitarian hauls - over 1 million survival kits within the period of 3 months". Since December the Centre will expand the range and the quantity of products: the package weighs 13 kilos now instead of 10 and contains high calorie products. Today the first trucks with the new packages have gone to Donetsk from Dnipropetrovsk. By December 3,194 trucks will have the humanitarian luggage delivered to Donbas Arena where it will be packed into 243 thousand packages by volunteers.
The enhanced packages will be given on a monthly basis to socially disadvantaged groups targeted by the Centre. The food packages will be first delivered to residents of Donetsk, Khartsyzk, Yasinovataya, and Yenakievo. The residents of Makeevka will be able to receive help in Druzhba Sports Palace in Donetsk since the first decade of December. The information about the population categories qualifying for humanitarian aid as well about the procedure of aid delivery to the population of Makeevka will be published on the Fund's web-site on Friday, November 28.
We would like to remind that Rinat Akhmetov has commissioned his Centre to deliver the second million of food packages to the peaceful population of Regions of Donetsk and Lugansk by the end of the year. According to the data of the Donbas Humanitarian Map about 35% of the population of the region are in need of food products.
Поделиться новостью:
STATISTICS AS OF 24.11.2017
THE HUMANITARIAN CENTER IS OPERATING FOR
issued
11 928 913
food packages
where
11 060 066
are adult packages and
868 847
are packages for children
from 0 to 35 months old
Read all news
Rinat Akhmetov
Humanitarian Center
© 2017
CONTACTS
0800 509 001,
Mon-Fri, from 9.00 to 18.00