Пресс-центр
Новости
How is the quality of products from the Humanitarian Center inspected? Stage two
07.04.2017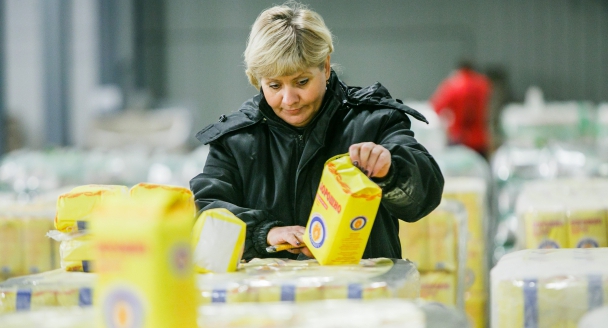 Rinat Akhmetov Humanitarian Center bears responsibility for every food package issued to Donbas civilians. The Center has s a smooth-running five-stage system for product quality control.
How are the products being inspected? What are the terms, criteria and ways of inspection?
2nd stage – quality inspection before the convoy is sent to Donetsk or Mariupol from the Humanitarian Center's distribution place in Dnipro.
The convoy is loaded the night before dispatch. Every type of product is being inspected for:
package integrity (in case of damages supplier replaces the products);
expiration dates (products are manufactured not more than one month before delivery and have a sufficient shelf life);
product quality (organoleptic indicators: taste, smell, texture, colour, absence of foreign admixtures);
weight;
compliance with quality certificates.
Each product has its criteria and standards upheld by the Humanitarian Center. For example, when receiving pate and sunflower oil from the supplier, employees measure the temperature in the trucks. During transportation and storage of oil the temperature shall range within 8-20C, for pate it is 0-20C.
More information on quality inspection of humanitarian aid from Rinat Akhmetov Humanitarian Center can be found on the Center's website and via hotline: 0800 509 001.
More information on the first stage of quality inspection can be found here.
Поделиться новостью:
STATISTICS AS OF 19.01.2018
THE HUMANITARIAN CENTER IS OPERATING FOR
issued
11 978 894
food packages
where
11 107 647
are adult packages and
871 247
are packages for children
from 0 to 35 months old
Read all news
Rinat Akhmetov
Humanitarian Center
© 2018
CONTACTS
0800 509 001
Mon-Fri, from 9.00 to 18.00